What Is The HAPPYneuron Method?
Personalized and supervised cognitive training.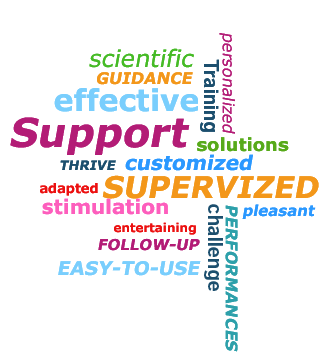 HAPPYneuron is a complete brain training method to stimulate the 5 main cognitive functions: Memory, attention, language, executive functions (reasoning, logical thinking), and visual and spatial skills. For more than 10 years, HAPPYneuron's scientific team have been offering a high-quality service based on the latest in cognitive science, personalization, and fun.
The HAPPYneuron Method:
Personalized training: Each person is unique. This is why HAPPYneuron offers you personalized brain training based on your cognitive profile and set according to your needs. You can choose between the "Wellness" or the "Performance" program based on your personality and your expectations. More information.
Supervised sessions: The HAPPYneuron method offers personalized coaching. It is defined according to your strengths and weaknesses and takes into account the diversity and complexity of the game catalog. The HAPPYneuron coach offers you:
Tracking tool, to check your progress,
Personalized guidance directing you to the most appropriate games for your profile,
Motivation, because training should be over the long-term.
It is also possible to play in free mode but we do recommend using the coach for the training to be as diverse as possible.
Progressive program: There are three major steps to the program (warm-up, training, maintaining). You therefore have the opportunity to define the program you're most comfortable with.