Is a well-wrapped present better appreciated?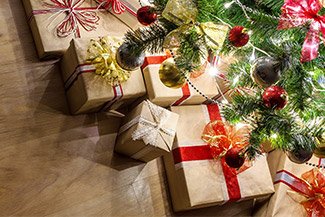 Holiday gift-giving is just around the corner… A recent study has just shown that there's an important, but often overlooked factor that may affect how a gift is received: the wrapping. The data from this study, published in the
Journal of Consumer Psychology
, could soon be very useful because it shows the effects of a well or poorly wrapped gift on the perception of the gift itself.
According to Jessica M. Rixom, a co-author of this study and professor of marketing at the University of Nevada, Reno:
"When we receive a gift from a friend, we use the wrapping as a cue about the gift inside and form expectations […] If it's wrapped neatly, we set high expectations, and it's hard for the gift to live up to those expectations."
For their research, the scientists began with the common assumption that we prefer to receive carefully wrapped gifts, but they also considered that the opposite could also be true…
J.M Rixom and her colleagues asked a group of participants to unwrap gifts that were either very neatly or sloppily wrapped. What was inside? Either an official Miami Heat or an Orlando Magic mug. It's important to note that all of the participants were fans of the Miami Heat basketball team. Once they had unwrapped the gift, the participants had to assess their level of satisfaction (through a series of 5 questions). The results showed that whether or not it contained a Miami Heat mug, participants preferred the gifts that were sloppily wrapped.
Another experiment was then carried out to verify whether the receiver's expectations could influence their perception of the gift. The researchers showed participants images of both gifts, one with the neat wrapping and the other with the messy wrapping. The participants then indicated their expectations about the gift and discovered that it was a pair of earbuds. They then had to rate how well the gift matched their expectations. The results show that expectations are much higher for well-wrapped gifts, but satisfaction with these gifts is lower.
A final experiment revealed that if the gift is intended for an acquaintance rather than a friend, the trend is reversed and the person is more likely to appreciate the gift if it's neatly wrapped. The time and care taken to wrap the gift are perceived as evidence that the giver values the relationship. On the other hand, if you give a gift to a friend, ugly wrapping paper, crooked cutting, and random bits of tape may actually make the receiver appreciate it more.
Why not test the hypothesis yourself this holiday season?
Source:
Jessica M. Rixom, Erick M. Mas, Brett A. Rixom. "Presentation Matters: The Effect of Wrapping Neatness on Gift Attitudes », in Journal of Consumer Psychology, Oct. 2019