Can garlic save your memory?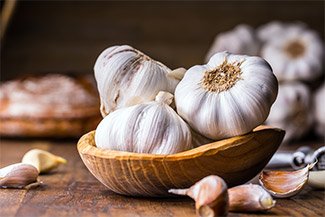 Too bad for your breath! A recent study has highlighted the possible benefits of garlic on
memory
. Researchers from the University of Louisville carried out an experiment on the positive effects of this plant on intestinal flora as well as its impact on cognitive health, including
memory
. For the moment, the experiments have only been conducted on mice, but scientists are already suggesting that garlic could be effective in fighting
memory
aging in humans.
Neuroscience in conjunction with microbiology has shown that there is indeed permanent communication between our gut and our
brain
. There are 200 million neurons in our large intestine connected to our
brain
through the vagus nerve. And our diet plays an important role in this. Eating a variety of foods can help maintain our microbiota and promote neurogenesis. Our microbiota produces molecules that are capable of acting as chemical mediators for the nervous system. Certain foods have been the subject of more specific studies, as is the case for garlic in this study.
Jyotirmaya Behera and her colleagues began with the observation that little research has been conducted on the impact of changes in gut microbiota on health. As we get older, our microbiota deteriorates, becoming less diversified and less abundant. In the present study, they wanted
"to better understand how changes in the gut microbiota relate to aging-associated cognitive decline."
For the experiment, the scientists orally administered garlic (allyl sulphide) to mice aged 24 months (group 1). This age corresponds to about 56 to 69 years in humans. This group of mice was compared to another group (group 2) of individuals (4 to 24 months) that did not receive a daily dose of garlic. The results indicate that the older mice who received the garlic had a high-quality microbiota, better behavioral abilities, and more robust short- and long-term memories. In fact, these mice had the same abilities as the youngest mice in group 2.
The allyl sulphide thus appears to be beneficial to intestinal microbiota, which is itself favorable to
brain
health. The microbiota also stimulates the production of a neurotrophic factor (which promotes neuron health) that supports
memory
function. The research team says these results are encouraging especially for people with neurodegenerative diseases. But additional studies (not only in mice) are essential to further clarifying the possible benefits of garlic on maintaining
memory
function.
Note that raw garlic was used in this experiment. Raw or lightly cooked vegetables are particularly beneficial to microbiota.
Source:
Jyotirmaya Behera, Kimberly E. Kelly, and Neetu Tyagi. "Altered Non-Coding RNA-Histone Acetylation Regulatory Circuit Is Associated With Cognitive Impairment via Gut Dysbiosis in Aging Mice", in The FASEB Journal (Federation of American Societies for Experimental Biology Journal), April 2019