Can dogs encourage kids to read?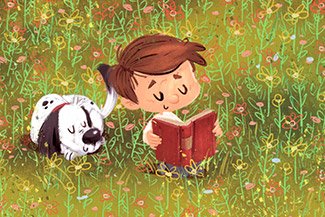 "Our study focused on whether a child would be motivated to continue reading longer and persevere through moderately challenging passages when they are accompanied by a dog."
This unusual line of research conducted by two Canadian academics led to an article in
Anthrozoös
, a multidisciplinary review of human-animal interactions. The research offers an opportunity to learn more about the impact of therapy dogs. Could they help motivate reading in children?
Camille Xinmei Rousseau (a doctoral student at British Columbia Okanagan, Canada) and Christine Yvette Tardif-Williams (Professor at Brock University Saint Catharines, Canada) investigated whether dogs could provide a favorable environment for reading in children when faced with challenging passages. To find out, they recruited 17 children (8 girls and 9 boys, ages 6 to 8) accompanied by their parents. The participants were selected according to their ability to read independently. In addition, the scientists determined the reading range of each subject to ensure they were assigned an appropriate excerpt. The researchers then chose stories that were slightly above each child's reading level.
The experiment took place under two conditions: the young participants read aloud to an observer and the dog handler, with or without the dog. Once they had finished the first page, the children could either do a second reading task or end the session.
What did the researchers observe during the experiment? The results suggest that the presence of a therapy dog (regardless of breed or age) had a positive impact on the children's motivation and persistence when reading a difficult passage. Reading times were significantly longer when the animal was in the room. In addition, the young participants declared that they felt more interested and more competent when the dog was in the room with them.
According to the authors:
"this was the first study that carefully selected and assigned challenging reading to children […] and could help to develop 'gold-standard' canine-assisted intervention strategies for struggling young readers."
The authors hope to continue their investigations in other educational areas besides reading.
Source:
Camille Xinmei Rousseau and Christine Yvette Tardif-Williams: "Turning the Page for Spot: The Potential of Therapy Dogs to Support Reading Motivation Among Young Children", in Anthrozoös, Sept. 2019 // UBC Okanagan website: New research demonstrates dogs promote page turning: https://news.ok.ubc.ca/2019/11/28/ubc-study-demonstrates-dogs-promote-page-turning/