Can animals reduce stress in students?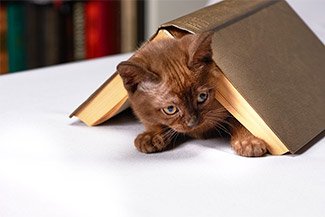 Between classes, exams and the stresses of everyday life (bills, shopping, cleaning…), going to school can be very stressful. In the United States, a unique approach to stress prevention has been warmly accepted: inviting students to pet animals. A recent study from the University of Washington has highlighted some promising results.
During past decade, American students have reported increasing levels of stress. Implemented in almost 1,000 university campuses to date, the "Pet your stress away" campaign offers students the chance to pet dogs and cats for 5 to 45 minutes in small groups. While the program's soothing effects have already been noted in previous research, Patricia Pendry and Jaymie L. Vandagriff, co-authors of this study, wanted to provide more complete and thorough evidence:
"We already knew that students enjoy interacting with animals, and that it helps them experience more positive emotions. […] What we wanted to learn was whether this exposure would help students reduce their stress in a less subjective way. And it did, which is exciting because the reduction of stress hormones may, over time, have significant benefits for physical and mental health."
For their study, the scientists focused on one of the body's most sensitive stress markers: the level of salivary cortisol which is dependent on the hypothalamic-pituitary-adrenal axis that connects the central nervous and endocrine systems.
249 people (average age = 19.94 years; 209 women) were recruited to participate in the research. Most of the subjects were mildly depressed, others were moderately depressed, and 16 subjects were severely depressed. Most of the participants experienced little (nb = 98) or mild (nb = 87) anxiety; while others had moderate (nb = 41), or even severe (nb = 23) anxiety. The authors were careful to point out that all of these numbers are comparable to those described in the 2018 American Student Health Analysis, which found that 22.1% of students suffer from anxiety and 18.1% struggle with depression. The participants were randomly divided into 4 groups. The first interacted for 10 minutes in small committees with cats and dogs. The students could play with the animals and pet them as they wished. The second group weren't so fortunate: they spent their 10 minutes waiting their turn while they watched the other students interact with the animals. The third group simply watched a ten-minute slide show of the same animals. Members of this last group were asked which cat or dog they preferred. In the last group, participants were told that they had been put on a waiting list. They weren't physically or visually exposed to the animals (although they were told they would see them soon). They waited their turn (in vain) for ten minutes. Note that they had no stimulus (phone, book, or other) and were not allowed to speak with each other.
Three saliva samples were taken during the day (on waking, and 15 and 25 minutes after the experiment). What did the results show? Regardless of waking levels, group 1 salivary cortisol levels were significantly lower than all other groups following the interaction with the animals. These results provide further evidence of the effectiveness of brief animal visiting programs in reducing physiological stress in students.
The authors are continuing their work which, in addition to the well-being of the student community, contributes to the general discussion on animal-assisted therapies.
Source:
Patricia Pendry, Jaymie L. Vandagriff, "Animal Visitation Program (AVP) Reduces Cortisol Levels of University Students: A Randomized Controlled Trial", in AERA Open, June 2019