HAPPYneuron, the pioneering brain training
concept, is scientifically designed to stimulate
your cognitive functions.
It's fun, personalized and adapts the training to meet
your needs with comprehensive training sessions.
Complete Stimulation
Remember more
Concentrate better
React quicker
Think sharper
Increase confidence
HAPPYneuron
offers:
A full list
of games
Many fun challenges
Clear performance tracking
Personalized: Games selected according to
your cognitive profile.
Coach Guidance: Comments and advice adapted to
your cognitive strengths and weaknesses.
Adaptive: Adapts to your natural ability.
Easy-To-Use: Available anytime and anywhere
with an Internet connection
Affordable: Less than $0,50 per day.
Start improving your brain now!
Get access to the complete HAPPYneuron program for
7 days for free!

Start
Now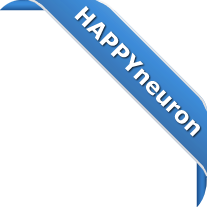 Are you a therapist?

Check out the HappyNeuron Pro website to learn more about our tools for health care professionals.
Discover our program

Discover our Brain Training Program: A supervised and customized program to train your cognitive abilities.
Subscribe to our newsletter

Get the latest information and news about the brain and our special offers twice a month for free.